Tacca chanterieri (The Bat Plant!)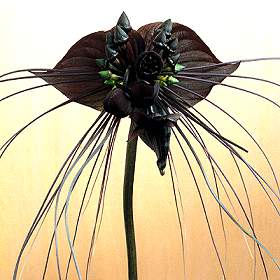 Scary!
Yaacov's mom supervises the science curriculum for kindergartens in the Jerusalem public schools. Several teachers got together and bought her a plant in appreciation of her hard work. The flower they got her is pictured above! Believe me, it's much more frightening in person! It's described as a plant "with hauntingly black blooms and tentacles up to 30 cm long"!
Yaacov's mom loves exotic plants like orchids. I am assuming that the teachers just called a flower shop or nursery and asked for a very unusual plant. We had a lot of fun joking about the plant and deciding where to put it! I am not sure of the sentiment this gift conveys! His mom says it scares her everytime she walks downstairs!