What To Do?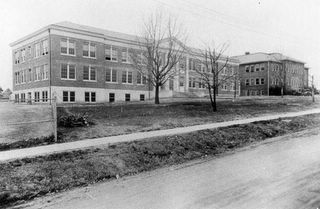 This is a picture from 1928 of
EK Powe School
in Durham, NC. In the US I taught for about four years. Almost two of those years were spent as a first grade teacher at Powe. The windows in my room were the ones on the bottom floor on the far left. It was a smelly old basement but I had a great time there. Teaching
really
is a challenging job. I left Powe to work in an amazing job at the
Museum of Life and Science
. At the Museum, I helped develop and research a math exhibit that is still in production.
But here in the Holy Land, I have no idea what to do.
I really don't want to work with children directly anymore. By this I mean I don't want to have the responsibility of being the main teacher. I might be interested in being an English teacher or doing fun activities in English with a class for 50 minutes or so. My days of being responsible for a room full of kids all day are LONG over.
I would love to continue my museum career. There are lots of great museums in Jerusalem. There's even a great science museum like the one I worked for in the US. But getting a job there will be tough and Yaacov and I are going to move to Tel Aviv this summer. So, it doesn't really make sense to even try to find a career oriented job here.
I could just get a plain, old job. But the pay is so low that it's almost not worth my time. For example,
David Sedaris
writes about his experiences being a Macy's Christmas elf and cleaning houses. I could DO that. Well, being a Christmas elf would be a challenge in Israel, but the cleaning part would be easy enough. I am subscribed to a listserv called Janglo. It's for English speaking folks in the Jerusalem area. At least 3 or 4 times a day there's a posting for "cleaning help". Everyone wants someone who is "legal". Well, I am legal. I have actually have a work permit! Now, let's see...30nis/hour plus travel cost up to 10nis! Whatever! Turns out that the going rate for housecleaning is about 40nis per hour. That's about $10 per hour for hard and ungratifying work. It might be interesting to see how other people live, but not for $10 an hour.
When I was in high school I worked at a grocery store. I don't think that would be for me anymore either.
In the US I was qualified to do all kinds of things. I have a degree from a great university. I am smart and responsible. Plus even though the economy wasn't all that great, there were jobs. Here I don't feel confident enough with my Hebrew yet to work with the public. I have only been studying for about 5 months. Maybe a simple job like stocking shelves or working in a gallery with shipments or something would be appropriate. A job that would let me practice Hebrew without the performance pressure.
Email me if you want to hire me.