TLV Pride
Earlier this month Yaacov and I went to the Pride Parade in Tel Aviv. It was a lot of fun - great weather (not too hot!), friends, and entertainment. Pride in Tel Aviv is a big event. There's a rally, then the parade, and a festival afterwards. I wasn't up for a long day of hanging out. So, we just stayed for the parade. It's not really a parade in the traditional sense - basically folks march down the street and hang out with each other. Anyone can join. There are just a couple of floats and organized groups - it's a blast though.
Here's Yaacov having fun before the parade!
We stayed in the shade before the parade and talked with friends.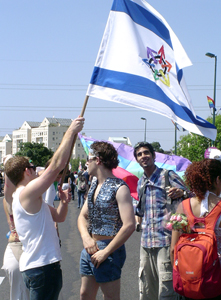 These are some friends from the
Jerusalem Open House
.
Here's a guy that lost his pants and shirt but held on to his flag!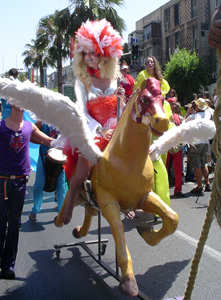 Creative!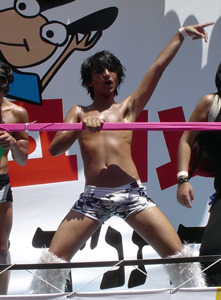 Hmmm...
Since the
Stonewall Riots
in NYC in 1969, marches, parades, and other gay pride events have taken place in communities all over the the world (well, almost all over - that's another post altogether). Pride events exist in order to celebrate, empower, and support the diverse and fabulous community of lesbian, gay, bisexual,
transsexual
,
transgender
,
intersex
, and
queer
people!
Jerusalem Pride is June 30
. I'll be there too!