Dick Clark
It can't be New Year's! See, New Year's for me involves dropping a crystal ball, backwards counting, hoppin' john, champagne, and Dick Clark. None of that happened this week.
This week in Israel (and in Jewish communities all over the world) we're celebrating
Rosh Hashana
or "the head (beginning) of the year". According to the Jewish calendar, we've just begun year 5766.
There are differences in the specific ways that people celebrate various holidays around the world. But some customs seem to be universal like spending time with friends and family. On "New Year's Eve" Yaacov and I went to his parent's house. His mom cooked delicious, traditional Georgian food and we gave toasts full of good wishes for the new year. Yesterday for lunch we went back and had leftovers! Our friend Avi who is a great cook had friends over last night for dinner.
I came to Israel almost a year ago but this is my first time experiencing these holidays in Israel (Yom Kippur, Sukkot and other holidays are coming soon). For me, the pace of life is marked by seasonal changes and the holidays that I had growing up like Christmas, Thanksgiving, and Easter. I am just beginning to feel the rhythm of the year in Israel.
So for those of you reading this שנה טובה! (Shana Tova) or Happy New Year!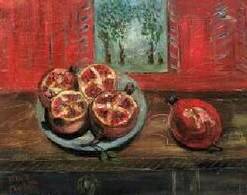 Reuven Rubin
Still Life with Pomegranates